MACON, Ga. (SEND2PRESS NEWSWIRE) — LBA Ware™, provider of the leading automated compensation and sales performance management platform for mortgage lenders, announced that it has completed a partial integration of its compensation platform CompenSafe™ with SimpleNexus's enterprise digital mortgage solution. As a result, LOs will be able to receive real-time push notifications on calculated loan commissions directly through the SimpleNexus app.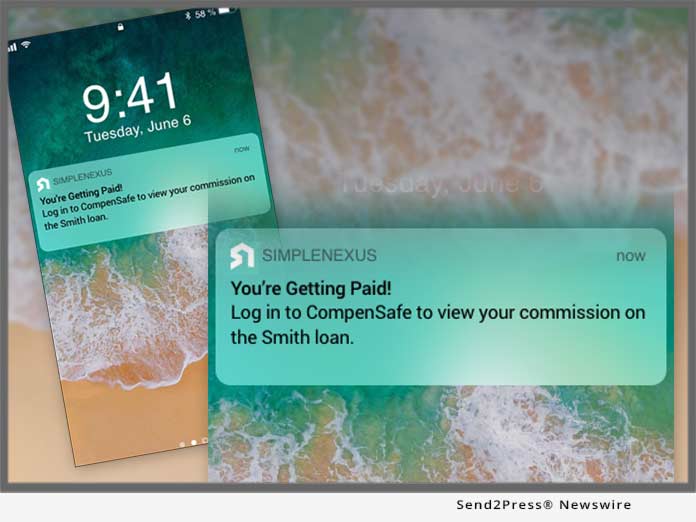 "LOs are increasingly using our mobile platform to manage their day-to-day tasks and adding real-time compensation notifications enables SimpleNexus to become a one-stop-shop for LOs, operationally speaking," said Matt Hansen, CEO at SimpleNexus. "LBA Ware has built the industry's best compensation platform, and we are eager to give our users a taste of what CompenSafe can provide through these push notifications."
SimpleNexus provides LOs with a single, mobile-driven platform to connect with borrowers and Realtor partners and access the ancillary systems and tools they use on a regular basis. The addition of compensation notifications through the integration with LBA Ware adds to the suite of milestone alerts and other push notifications already available through the app and gives LOs a more complete picture of their individual level of production in real time.
"Performance and productivity go hand in hand, and for LOs, having commission notification in real time can be a powerful motivator to increase applications and ultimately close more loans," said Lori Brewer, founder and CEO of LBA Ware. "SimpleNexus has quite literally put the LO's office in the palm of his or her hand, and the addition of compensation push notifications from LBA Ware takes that one step further by providing a valuable connection to their compensation."
To help SimpleNexus users learn more about these push notifications, LBA Ware will be a sponsoring partner and attendee at the 2019 SimpleNexus User Group event scheduled for February 10-12 at The Cliff Lodge in Snowbird, Utah.
About SimpleNexus:
SimpleNexus, LLC is a digital mortgage solution provider, enabling lenders to originate and process loans from anywhere. The platform connects loan officers to their borrowers and realtors to easily communicate and exchange data in a single location throughout the entire loan life cycle. Loan officers can manage their loan pipeline, order credit, run pricing and send pre-approvals — all on the go. Loan officers can easily share the app with borrowers and realtors, giving them the modern mortgage tools they want and need.
SimpleNexus serves more than 200 enterprise mortgage companies and more than 20,000 loan officers nationwide. To learn more, visit https://simplenexus.com/sn/.
About LBA Ware:
Founded in 2008, LBA Ware's mission is to inspire opportunity by delivering solutions that are essential to the way mortgage companies operate. We are a trusted partner and play a key role in our clients' success by enabling them to motivate, incentivize and better leverage the human potential within their organizations. Our applications automate traditionally manual business processes for which an existing software solution does not exist, empowering lenders to create an integrated software environment that maximizes their productivity and operational efficiency. For more information about LBA Ware and our software solutions, visit https://lbaware.com.
Twitter: @LBAWare @simplenexus #SNUG19
###
*IMAGE Link for Media: Send2Press.com/300dpi/19-0131s2p-SimpleNexus-CompenSafe-300dpi.jpg
News Source: LBA Ware